are behind the cut :)
A Proper Lover (Ganymede Quartet Book 2)
What does it mean to belong to someone?
Henry Blackwell is the happiest he's ever been, and it's all because of his companion slave Martin. Every experience, whether it be mundane or spectacular, is improved by having Martin at his side. The better Henry gets to know his slave, the deeper his feelings grow. Though the physical attraction between them is undeniable, Henry's sure there's more to their relationship than just sex. He can't be certain, as it's never happened before, but he believes he might be falling in love.
Henry's friends are ready and willing to put their own slaves aside in favor of female companionship, and they're beginning to wonder why Henry isn't interested in girls. Henry only wants to be with Martin and doesn't know how much longer he can use "late bloomer" as an excuse. The holiday season approaches, along with the promise of parties with friends and family. Henry doesn't want to share Martin with his friends, but he doesn't like being left out. Will he stand up for himself—and Martin—when it counts?
This is the second of four installments in the Ganymede Quartet, continuing Henry & Martin's story from A Most Personal Property (Ganymede Quartet Book 1).
A Master's Fidelity (Ganymede Quartet Book 2.5)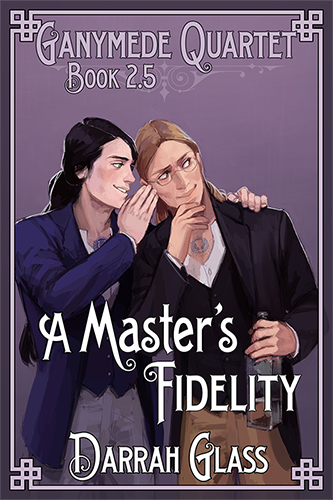 Can a master belong to a slave?
It's a season for celebration, and Martin is falling in love. Henry has always been adamant he won't share Martin with any other master, but when Henry accepts an invitation to a friend's New Year's Eve party, Martin wonders if Henry has changed his mind. Certain that this will turn out to be one of the masters' notorious swapping parties, Martin resolves to do whatever Henry asks of him, with whoever Henry chooses, without question. But faced with the idea of Henry being intimate with any other slave, Martin despairs, wanting Henry all to himself. A good slave would never ask for a master's fidelity, but that's just what Martin wants to do. 
This story is told from Martin's point of view and runs parallel to events that take place in the final scenes of A Proper Lover, the second book in the Ganymede Quartet.
---
PLEASE NOTE:  Because A Master's Fidelity takes place concurrent with the events at the end of A Proper Lover, it's definitely recommended you read APL first, though of course you can do whatever you'd like :)
Release dates are imminent!